Anchor Text | Key Player of The Link Building Game
6 min read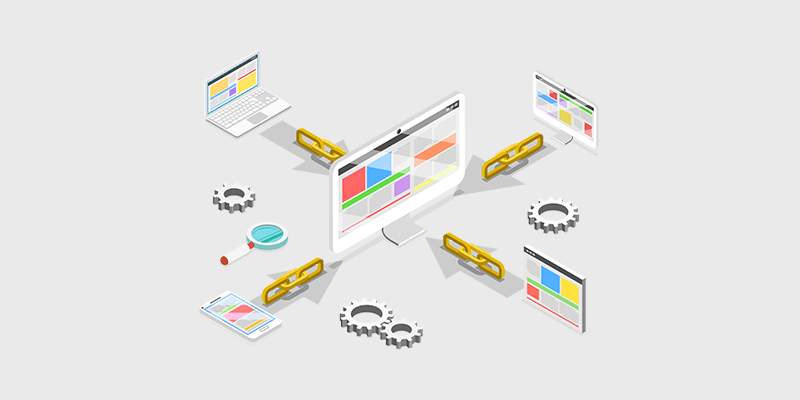 Since we're living in the Digital Era, it became quite natural that we turn to the internet whenever we're searching for any type of information.
That's one of the reasons the majority of modern businesses turned their focus to the online realm, not only when it comes to their operations but the way in which they interact with their audience as well.
Business promotion is another thing that made its way online. By now, most modern-day marketers understand the power of Google and the benefits playing by its rules can bring. That's why SEO became such a popular marketing strategy, practiced by the majority of businesses.
Now, even though many different factors influence SEO, link building is arguably one of the crucial ones.
Needless to say, the words you choose for linking play a huge role. If done right – this can bring numerous benefits to your business. If done wrong – it can seriously damage your business.
These linking words are called anchor text and they are commonly considered key players in the link building game.
What is Anchor Text?
Anchor text is a word or a phrase in a text that's used to link two internet locations together – anchoring them together, so to say.
An anchor text, also called link title or link label, is a part of an online text that contains a link. When clicked, that link will take a visitor to some other location. This other location can be either within the same website or an entirely different website.
Naturally, since these clickable words take the visitor from one piece of content onto the next one, you need to make sure that they clearly describe the type of content the visitor can expect to be met with once they follow the hyperlink.
Not only that, but Google itself will check these links to ensure that the content is accurate and relevant.
The Importance Of The Anchor Text
As previously mentioned, link building is a very important part of SEO. Since links are extremely important for web positioning, it's understandable why this needs to be approached with care. There are two main reasons why the anchor text – and particularly the words you choose to use – are so important:
They let your readers know what to expect if they choose to follow the link.
They inform Google's algorithm what the linked content is about. This is particularly important, as Google doesn't like spammy content, and your anchor text is the first indicator of whether your content is spammy or not.
Needless to say, for this reason, in particular, you need to make sure that your anchor text is properly optimized. However, keep in mind that while the anchor text that's not well-optimized won't do you much good, neither will the overly-optimized one, so be careful with the optimization.
Why Does Optimization Matter?
To further explain what we mean, it's important to explore the overall website optimization, and not just the anchor text one.
As you probably already know, proper website optimization plays a huge role in your website ranking, as this is one of the crucial factors checked by Google.
A website that's properly optimized, featuring relevant and well-organized content, intuitive user interface, seamless navigation and proper security – among other things – will instantly be more appealing not only to Google but to your visitors as well. That's why every business needs to make sure that they do this part right.
Since a good website design is so important, every business should ensure that this part is done immaculately. Ideally, businesses should rely on their local professionals to do this part right. Therefore, look for experts in web design Los Angeles if this is the area you operate in.
Types Of Anchor Text
There are many different types of anchor text and all of them play a very particular role.
Exact Keywords
As the name suggests, these keywords are implemented and linked in their exact form. This means that the keywords should not be changed in any way, nor should they feature any type of extension or "long tail." Exact keywords are most common in high-quality links.
Example: keyword – truck drivers
Experience is a very important aspect when looking for reliable truck drivers for your company.
Keyword Variations
Keyword variations are most commonly synonyms of the main keyword. This practice broadens the scope of positioning by enabling you to position by synonyms as well.
Since Florida web design company, it's important to offer customers multiple options to find the content they're looking for and using keyword variations in your content is one of the best ways to do so.
Example: keyword – cat food
The offer of kitty food on the market is quite diverse, so pet owners will have plenty of options to choose from.
Branded Anchor Text
A branded anchor text focuses on the name of your brand. This type of anchor text gives relevance to your brand, and it is one of the most natural types of anchor text you can use. However, this type of anchor text is best left for links that have less authority.
Example: keyword – Nike
When looking for high-quality running shoes, Nike will have you spoilt for choice.
Generic Anchors
Generic anchors are anchors that use common or generic phrases that usually don't offer much explanation as to what the visitor can expect. These phrases usually have a large number of matches and can be used instead virtually any other keyword.
Example: keyword – click here
Click here to find out more.
Partial-Match Anchors
Partial-match anchors most commonly consist of a brand name + anchor text. These are also considered to be quite natural. They are a great way to boost your relevance without coming off as overly optimized.
Example: keyword – BMW hybrid vehicles
For more eco-friendly-oriented consumers, BMW hybrid vehicles present a great option.
Naked Link Anchors
As the name suggests, this type of anchor features a naked link instead of an anchor text, but the link itself acts as a reference to the anchor text.
Example: anchor – https://www.purina.com/friskies
If you're looking for tasty, high-quality food for your cat, check out https://www.purina.com/friskies.
LSI keywords
Latent Semantic Indexing keywords, or LSI keywords for short, are keywords that are semantically correlated to terms search engines use to better understand the content on a certain web page.
As an example, when searching for "SEO tools," you may be presented with "Google Analytics," which – in this case – works as an excellent LSI keyword.
Anchor Text Optimization
The best piece of advice we can give you when it comes to anchor text optimization is to try and keep things natural and versatile. There really is no one-size-fits-all answer when talking about anchor text optimization because a practice that could work for one business could seriously damage another.
To put things into a clearer perspective, you need to make sure that your anchor text provides clear value to your users.
So, for instance, if you're running a Florida web design company, simply optimizing for "web design," "design company," or "web design company" won't really bring much value to your local audience.
Instead, it would be far wiser to opt for a different alternative that will a) make it easier for your audience to find your business and b) offer real value to them.
Web positioning plays a very important role in the success of any modern business. And considering the fact that desirable web positioning wouldn't really be possible without SEO and link building, it becomes quite clear why anchor text plays such a key part.
The better the links you manage to build, the better your positioning will be. Needless to say, this will boost your exposure, bringing more audience your way. Of course, a greater audience means more business opportunities, which is just one of the benefits of winning in the anchor text game.
Author Bio:
Tomas is a digital marketing specialist and a freelance blogger. His work is focusing on new web tech trends and digital voice distribution across different channels.
Find Digital Agency