Advertising in Social Media – Does It Work for Healthcare Marketing?
5 min read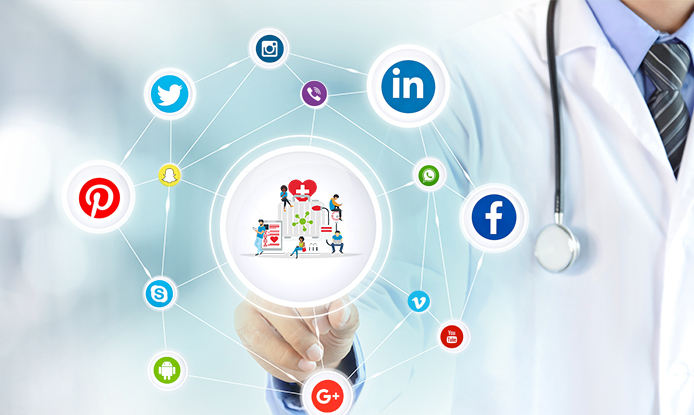 Introduction
There is a popular notion that every business can benefit from social media marketing. Nevertheless, some marketers believe that some industries should steer clear of social networks – either because it's not cost-effective in their business model or it's plain harmful for their business.
Be that as it may, the general consensus is that healthcare services can definitely benefit from social media advertising.
In this pro and con overview, we are bringing you both sides of the story so you can decide whether social media marketing is the right choice for your practice.
Benefit #1: Helps Attract New Patients
Social media is one of the most effective marketing channelsnowadays. It can help you reach and attract new patients with detailed targeting and segmentation options. It's also very cost-effective compared to some other marketing channels, such as TV or newspaper.
Benefit #2: Boosts Brand Recognition
If you choose topicsthat will be interesting to your readers and consistently provide great value, it will have an incredibly positive impact on your business brand. Your healthcare business has the opportunity to become well-known through social media alone. In this industry, where word of mouth and reviews are everything, it's great that there is a channel where you can completely control the narrative.
Benefit #3: Opportunity to Target an Audience
One of the most useful tools in social media advertisements is the option to target an audience based on location, age, gender, interests and much more. This allows you to place your message directly to potential patients in your area with a particular health problem, for example.
Another great perk is the detailed analytics systemthat's present in social media ad sections. During your promotion (and after it's over), you can see the exact engagement rate of specific groups of users. You can use this data to tweak your posts and overall marketing.
Benefit #4: Easily Leads to Direct Communication
If we take TV or newspaper ads that we have mentioned before as an example, you can see that the road from seeing an ad to communicating with the business is much longer than on social media.
On social media networks such as Facebook and Instagram, there is an option for direct messaging within an adplacement – if someone is interested in the offer you provided, they can start communicating with you directly with a single click.
Benefit #5: Drives Traffic to Your Website
As a healthcare professional, your official business website is probably still your biggest driver of traffic, leads and conversions. The main reason for this is search engine users who directly type in your name or the name of your clinic, or people who search for their symptoms.
Your website is very valuable and should definitely remain in your focus, but social media can also serve to drive traffic to it. If you share blog posts or pages from your website on the social media business page, you can start getting traffic from there as well.
A large number of users coming from social media, coupled with likes, shares and comments is also an SEO booster.
Now, it's time to look at some of the possible drawbacks of advertising on social media if you are in healthcare:
Drawback #1: Can Make Your Business Seem 'Unprofessional'
Some users think social media is "just for fun" and that serious professions don't have a place in it (such as doctors, lawyers, engineers, etc.) Regardless of whether you agree or not, a certain percentage of the audience will probably see you as unprofessional if you advertise on mass social media such as Facebook.
This applies primarily to older people. Therefore, if your primary target audience is people 40 and over, you should first test out whether social media marketing works for them.
"Some of us are still not used to seeing certain professions and businesses advertise on social media. That's why sometimes posts in particular niches underperform, even if the content is flawless. Before investing in social media marketing, you first have to see whether it's right for your business", says Sasha Myers, a writer at Studicus.
Drawback #2: Possibility of Negative Reviews
Reviews: what's a great resource for a private individual can be detrimental for a business. Even if someone leaves a silly remark along with a negative review, it's there forever: you won't have the ability to delete it and it will always be prominently shown on your social media page.
Many businesses and industries opt out of social media altogether because of the possibility of negative reviews. If you don't mind the risk or you believe that you won't receive any negative feedback, only then is social media right for you as a healthcare professional.
If you do receive negative ratings, be prepared that this is something that will be permanently connected to your brand's online presence.
Drawback #3: Creating Posts Can be Time-Consuming
If you are a healthcare practitioner, you shouldn't be wasting too much time on social media marketing. There are professionals out there who you can hire to help you and there's no need to spend an hour or so of your precious time each day to come up with new content.
Conclusion
As you can see from our list, the benefits of social media marketing outweigh the drawbacks. Therefore, you should definitely consider including social networks in your marketing arsenal if you're not using them already.
Start by experimenting and testing out different kinds of content to see what resonates with your audience the best. After that, you can tweak your content and continue providing valuable information for your current and future patients.
After a couple of weeks, you will probably start seeing a positive effect on your social media marketing campaign. Good luck!