7 Tips To Stand Out When Making Videos For Instagram
4 min read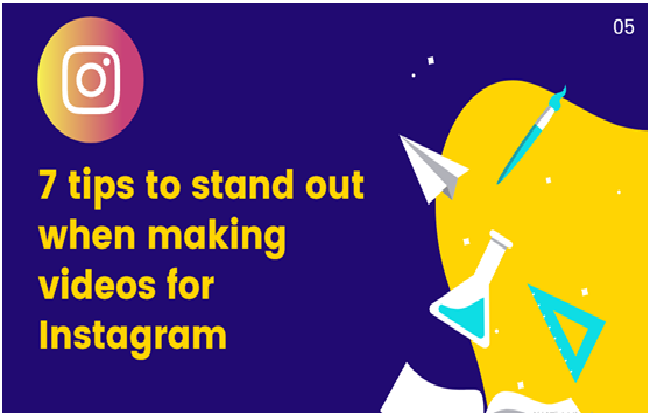 Instagram is here to stay, and there are more than 1 billion monthly active users. With figures like this, you can not forget about Instagram when developing your social media strategy. If you do it right now, you can turn the platform into the best showcase for your business.Why should you go beyond photos and start uploading videos to Instagram?Instagram is a very visual social network where its main content is always pictures. But times change, marketing evolves and companies have two options: renew or die. And Instagram has opted for the former. And all this only confirms that the present and the future of social networks involve including video marketing in your social networks strategy.
So if you are wondering that is it really necessary to do video marketing? The answer is absolute YES. Because videos like, attract and sell. And because they are attractive and easy to consume. They increase the emotional bond with your followers.
7 tips to stand out when making videos for Instagram
1. Define your goals
Before you start posting videos, ask yourself the following question:What do you want to get when uploading videos to Instagram?When you have the answer, then you can start defining your video marketing strategy. For example, drive more traffic to your website, get more followers, improve your brand image or gain more views.
2. Find out your video type
There are many ways to succeed on Instagram, but for this, you will undoubtedly have to choose a suitable video type that really works (and even instead of limiting yourself to one of them, you can combine them).Think that thousands of videos are uploaded every day, so to stand out, you will have to be very creative, and the limit of 60 seconds per video will force you to be if you want to take advantage of every second.
3. Make specific videos for Instagram
To take full advantage of video marketing, you should consider portrait videos on YouTube, native videos on Facebook, and Livestream videos on Instagramwithin your social media strategy.And you might be thinking, "so why not make the video just once and post it on all the networks at the same time?". It is not bad reasoning, but it is not the best option either.The reason is quite simple: while you can post long videos on Facebook or Twitter, the 60-second limit for videos on Instagram will require you to create powerful, visually appealing content that grabs the reader. You can get inspired with the pre-made Instagram video templates at FlexClip, Where you could get a stunning video ready to use.
4. Make special campaigns
One of the great advantages of social networks is immediacy, so why not take advantage of it to launch campaigns that allow you to gain visibility and increase engagement?You can take advantage of the day holidays like Christmas, Halloween or Carnival to make a video related to this subject. You can take advantage of big events such as a presidential election, holding the Olympics or the World Cup final soccer.
Using hashtags will help you get discovered by people, so look for current trends and try to apply them in your videos as long as they are related.Instagram now allows at most 30 hashtags per post so decide which ones to use and make sure they are related to your topics.Of course, do not over-using hashtags. Otherwise, you will tire your audience. Like everything, balance is the key. Hashtags always help attract new followers and connect with your audience.
6. Use Instagram Stories to boost your strategy
Instagram Stories is another platform that will help you interact with your audience.Basically, You are allowed to upload several photos or videos that you can edit with text, doodles and drawings that will be shown as a sequence or story.It is very similar to Snapchat stories, and its main feature is that they are displayed at the top of the app, so your followers will see your stories as soon as they open Instagram.
7. Measure results and monitor your brand
By uploading videos to Instagram, you can see the interaction they have had as well as the number of views or comments. Therefore, when you publish several videos, you can (and should)  measure what your audience likes the most and continue down that path.It is also crucial that you manage comments, direct messages and @mentions as this will help you increase engagement, build trust and improve your brand image.
Conclusion
So, ready to jump to videos on Instagram? Try it, and let us know! 😉
As much as we explain to you about video marketing on Instagram,  there are advantages that you will only be able to appreciate once you take action,  so start designing your strategy and get to work. So now you can take the leap to videos on Instagram and, above all, do not hesitate to share this article with all the people who you think may be interested in succeeding on Instagram. They will be grateful to you!