Best Men's Glasses Styles To Stand Out In 2023
5 min read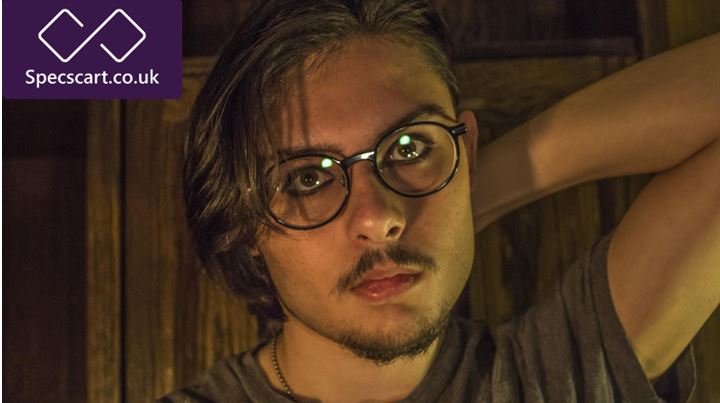 To stand out with their style game, men must know that accessories are super effective. Dressing up well is certainly a prerequisite, but complementing it with accessories is where the magic happens.
Whether it's a simple bracelet or a smart scarf, or even a cool hat, accessories must be a part of all men's wardrobes. When the talk is about fashion accessories, it would be unfair if we missed out on glasses – the most intimate fashion accessory.
The best thing about glasses is that there is always something for all moods and occasions, and for all your style needs. That's exactly the reason why you should have multiple pairs of glasses so that you can style them perfectly as per various occasions, just like how you do it for something like shoes.
For all those men looking for a much-needed style upgrade, here is the trend forecast for the best glasses styles for men in 2023. Read on!
Round Glasses
We don't remember the last time when round glasses for men were not a trend and that's why we prefer to call them a timeless style. The round glasses style never gets old and are great for those looking for trendy glasses for men.
Round glasses can light up all occasions and elevate any outfit, making them a versatile option. There is an extensive range to choose from when it comes to round glasses for men. Although good for all face shapes, they accentuate angular facial features brilliantly.
Talking about the styles that are set to rock in 2023, the sleek metal frame variants are a strong contender. For those who want to keep things vintage, tortoiseshell frames when combined with round styles are a rock solid option. And yes, don't hesitate here as vintage fashion is at its peak..
Oversized round sunglasses have also witnessed a spike in their popularity and are already a hot trend. We are expecting them to continue further into 2023 as one of the funky options that many would love to style.
Clear Frame Glasses
The crystal clear frames are an evergreen style, and will remain so in 2023.
Also known as transparent glasses, these are a contemporary style as they were introduced into the fashion scene at a relatively later stage. However, it has not taken much time for clear frame glasses to become a craze among fashion enthusiasts. If you are looking for an elite pair of fashion glasses for men, clear frame glasses are where your search ends.
Talking about the frames that are best with clear frame glasses, square frames will never disappoint. Your options don't end here as you can also try out the classic aviators with double bridge or even the simple yet elegant round styles.
Clear frame glasses accentuate your facial features exceptionally well – thanks to the transparent structure of the frames, which do not add any hindrance to your facial features and instead make them more prominent.
Oversized Glasses
By combining elegance with a funky touch, oversized glasses are expected to be all over the streets in the upcoming year. Quirky and bold, there is always a variant of oversized glasses for all occasions.
There is only one rule that you need to keep in mind when it comes to what's the right size for you – just go with a pair that doesn't cover your eyebrows and rests above your cheeks.
While choosing the styles of frames, opt for round or oval frames if you have angular face shapes, and take the angular route to balance out round or oval face shapes.
Round oversized glasses with metal frames are a classic style set to trend like never before in 2023 and you will be assured of nostalgia of the 60s with these frames. However, when it comes to oversized glasses, the style that is going to steal the show is square oversized frames.
Geometric Glasses
The sophisticated geometric shapes utilised by geometric glasses impart them an elite visual appearance. The best thing about this style is that they can be pulled off by everyone. Ever since their introduction into the fashion scene, geometric sunglasses have never failed to disappoint those who have wanted to ramp up their style with a pair of glasses.
Various combinations of sides and angles result in multiple variations of geometric glasses. You can pick a pair that suits your definition of style.
In the upcoming year, you need to experiment by moving beyond the conventional shapes, and opting for offbeat geometric frames. Asymmetrical sides with sharp angles – a combination to watch out for. To keep things offbeat with the types of frames, half-rim geometric frames are your go to option.
Aviator Glasses
Well, we are not talking about the sunglasses variants here, which are one of the most iconic eyewear till date. Aviators are equally exceptional with clear lenses too.
The unique teardrop structure of the aviators oozes with class and elegance and the top bar adds further to their classic appeal. It is not that the teardrop structure has remained as it was during the origin of aviators, but new variations and modifications have been introduced, making aviators a more vibrant style. Aviator glasses are one of those styles you cannot miss out on in 2023.
The sleek wire-framed metallic aviators are still one of the hottest trends, and the chunky acetate frames are also going to be a massive craze in 2023. To keep things sophisticated and elite, you can try out the geometric aviators, and go with round aviators for a retro feel.
Rimless Glasses
Another contemporary style that deserves a place in this list, rimless glasses are an elite eyewear option that have only made glasses more stylish and approachable.
The sophisticated frameless structure that rimless glasses employ sets the entire focus on the clear lenses, imparting a neat and suave appeal. One of the most amazing benefits of rimless glasses is that they are very light on your face.
The basic and smart rectangular rimless glasses are going to be a style to watch out for in 2023. Geometric styles are set to have their influence here too and opting for geometric rimless glasses will be a smart move. Apart from these, the versatile round styles too are an impressive option when complemented with rimless frames.
Browline Glasses
Browline glasses are a wonderful option for those wanting to keep things serious yet elegant. The prominent upper portion of these frames brings about a solid contrast, enhancing your facial features to perfection.
To stand out with your fashion in 2023, you can opt for the all-black frames of browline glasses for an elite style or keep the vintage element high by going with the tortoiseshell frames, which look superb on browlines.
Although ideal for formal occasions, you will also find pairs that can help you keep things casual as well.