5 Ways To Use Web Designing As An Effective Digital Marketing Strategy
5 min read
Web design is a process in web development that tends to focus on aesthetics, like the layout and user interface. However, in terms of digital marketing, it's so much more than just looking good. Search Engine Optimization (SEO) and  Link building are some things to consider in the present digital age.
Marketing strategies have evolved at the same time as the market itself has. The pandemic has only strengthened the digital market further because it's safer than in-person shopping. Now it has become a competition among websites that are both aesthetically pleasing and user-friendly.
A strategic web design can enhance user experience and make it more appealing as a shopping platform. And once it generates more traffic, bloggers may use it for link building.
Let's talk more about the different ways we can use web designing and web development as effective digital marketing strategies:
Creating a Smooth User Experience (UX)
Imagine visiting a website because of an ad and finding it so hard to navigate. You can't even find the items that prompted you to visit in the first place! The frustration will only dissuade you from digging around. You'll find yourself going to another website with a smoother user interface. 
The word "design" doesn't just mean to beautify. The overall experience of navigating through the website is part of the design. For example, if a house is beautiful on the outside but you can't even find the restroom when you're inside, would you still want to visit that house?
We also recommend taking into consideration the site's speed. People are less likely to revisit a website that takes ages to load. Nothing irritates people more than lag when they're searching online.
The user experience will entice potential customers to revisit the website. It will also convince SEO link builders to start linking your website, potentially giving you more traffic.
Creating a Coherent Identity
It's no surprise to say that your website will represent your brand or identity. So during the design process, you need to decide what kind of identity you want to have. What kind of message do you want to send to your visitors?
Part of establishing your identity is establishing your goals. Do you hope to thrive in eCommerce link building? Do you intend to specialize in link building services?
When your consumers know the goals you want to achieve, they can appreciate the honesty and support your business. After all, the goal of every business is really to make a profit. Your identity can be more than that and the design will help dictate that image.
Going up the Search Rankings
Search Engine Optimization (SEO) is something to keep in mind when web designing. SEO will help your website be on the first page of search engines. This means that people who are searching for services in your industry will see you first.
By being on the first page of search engines like Google, you're deemed as a credible source by users. Over time, you'll find a steady increase in traffic. More people will refer to your website and content for their searches.
How Do You Improve Your SEO?
Link building is a common strategy for SEO. It's when you gather links from other websites and add them to your content as hyperlinks. It's a great way to establish relationships and connect with other website owners so that they'll link your content to theirs.
There are numerous link building strategies that you can study and use. You can also employ SEO link building services to assist you. The best link building methods will increase the number of visitors to your website and expand your reach.
Optimizing Your Conversion Rate
What is the conversion rate? It's defined as the percentage of users who visit your website and take on your desired action. Examples of these actions are buying your products or signing up for your mailing list.
A compelling web design should bring about your desired results. It ought to lead the visitors from prospective customers to consistent consumers. A consumer would want a seller that's easy to trade with so having a website that's easy to navigate checks that criteria.
A responsive website tends to garner more frequent visitors. Who doesn't like to visit a site that doesn't waste your time with slow loading screens? A website that doesn't crash and gets you where you want to be.
Having top-quality site linking will also increase your credibility. Ultimately, it will result in great SEO and conversion rate.
All of these are just small steps that build-up to the goal of gaining profit and getting loyal customers.
Strategic Advertising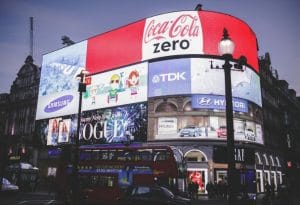 Ads can be found on every website. Often, they can be very annoying for visitors so being strategic in their placement is important. Put yourself in the shoes of someone visiting the website.
You're scrolling down and eyeing the products when suddenly, an ad pops up and covers the whole screen. You can't even scroll in peace and the ads would reappear every few minutes. Would you continue viewing or move to a different site altogether?
Like how link building needs strategies, so do advertisements. You can place your ads on parts of the website that aren't obtrusive, like the top, bottom, and sides of the page.
Ads are also a way for your visitors to navigate your website, such as those pay-per-click advertising campaigns. This is where the importance of landing pages comes into play. The ads need to smoothly transport the visitor to the part of your website that they're interested in.
The ad shouldn't be too different from your website to avoid having the visitor feel disconnected.
Conclusion
Web designing has become an intrinsic part of digital marketing. There are numerous factors that influence a web design for it to become a successful marketing strategy. Some of these factors include giving a smooth user experience and having a coherent brand. We also advise advertising strategically.
Increasing your website's SEO ranking is another method. That is through different link building strategies. Being on the first page of the search engines increases your page's credibility. It becomes a reliable site for visitors who are searching for services within your industry.
Always remember that the user experience must be considered in every step of your web design. After all, you're appealing to your prospective customers, not just your aesthetics.