10 Best Web Design Tools To Build Creative Websites
6 min read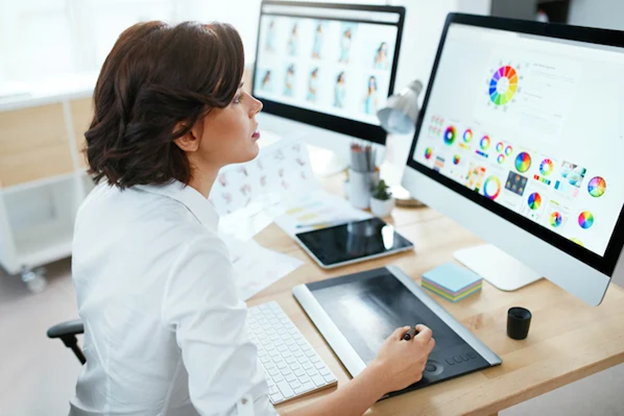 Best Web Design Tools 2021
These days, several excellent web design tools are available to assist you with mockups, frameworks, testing, and other tasks. On the website, you'll also find a wealth of data on many factors that go into successful web design, such as virtual reality, animation, color, and typography.
Someone has probably built a tool for whatever problem you're attempting to solve in your web design workflow, whether it's a standalone utility or a feature within a more extensive program. The positive news is that so many of these fantastic Web design tools are available for free, though this does make deciding which ones to use significantly more difficult.
What Are the Best Web Design Tools to Build a Creative Website?
InVision Studio
InVision Studio intends to be the only interface web design tool you'll ever need. It includes tools for rapid prototyping, responsive and collaborative design, and working with design systems; among other things, you develop attractive, interactive interfaces.
There's a lot of similarity in capabilities if you're currently using InVision with tools like Sketch. Studio's strength, though, is in prototyping, which is especially important if your design contains animation. Rapid prototyping will enable you to develop unique and innovative transitions, allowing you to attain the desired amount of energy.
SKETCH
Sketch by Bohemian Coding is among the most actively used web design tools, and it's a competent vector-based tool for interactively creating interfaces and prototypes. A sketch got explicitly created for creating creative websites and apps, so it has fewer unnecessary features and is faster and more efficient than applications with a broader range.
Sketch's disadvantage is that it is only accessible for Mac, with no intentions to support other operating systems. It has been a concern because designers frequently wish to share sketch files with Windows developers.
ADOBE XD
Under the Adobe Creative Cloud package, Adobe XD provides the most excellent environment for digital projects. If you're a long-time Adobe user who's just getting started with XD, you might find the interface a little strange at first. It does, however, measure up to other leading tools. It's a giant leap if you've been using Photoshop for a long time, but it's well worth it for UI design.
Moreover, Adobe XD is fully merged with the rest of the creative website, allowing you to import and work with files from Photoshop or Illustrator. If you've used previous Adobe programs, the UI will seem comfortable and familiar, so there won't be much of a learning curve.
MARVEL
Marvel is another web design tool ideal for coming up with quick ideas, fine-tuning an interface, and creating prototypes. Marvel has a calm approach to creating pages that lets you sample your design with a mockup. For putting your ideas into your project workflow, there are some fantastic integrations available. It's worth noting that there's an integrated user testing option, which is currently uncommon in the web design tool landscape. There's no need to get anything because it's all done online.
FIGMA
Figma is an interface web design tool that enables real-time collaboration amongst numerous UK website designers. When several users in a project want to shape the outcome, this is a great way to go. It's available in the browser and on Windows, Mac, and Linux, with both free and premium versions depending on your needs.
Web designer Benjamin Read says, "Figma has a similar USP to Sketch, except being cross-platform." "I found the workflow to be smooth when I used it to make a couple of icons. It was simple to pick up and has the added advantage of being interactive: you can share graphics with others within the program."
AFFINITY DESIGNER
"Some have dubbed Serif's Affinity Designer the 'Photoshop killer,' and it's easy to understand why," explains product designer Dan Edwards. "Adjustable, non-destructive layers were among the things I particularly liked. It simply means that you can make changes to photos or vectors without causing them to be damaged.
The UI has a familiar feel to it when it comes to design. When switching from Photoshop to InDesign, everyone appears to want to start again, which might be difficult. Affinity has done an excellent job of keeping the layout familiar while tightening it up and removing distractions.
UXPIN
UXPin is the following web design tool on our list. This web-based prototyping tool is available for Mac, Windows, and the web. UXPin gets closer to the code and allows you to work with interactive states, logic, and code components. In contrast, most other web design tools only allow you to recreate interactions by linking different elements on your screen.
You can make your first design for free on UXPin and then upgrade to a premium monthly subscription if you like it (team memberships are available). UXPin also offers a good Sketch connection, so it's worth adding to your workflow if you want Sketch but find its prototyping capabilities limited.
PROTO.IO
Proto.io is an excellent web design tool for creating lifelike prototypes that start with rudimentary concepts and conclude with fully realized designs. In addition, the device offers a variety of options for your projects, including detailed and creative vector animations.
You can begin by sketching up the first concepts in a hand-drawn style, then moving on to wireframes and a high-fidelity prototype. If you wish to design using other tools, the Sketch and Photoshop plugins can help, but Proto.io handles the entire design process well. Additional features, such as user testing, will aid in the validation of your designs.
MOCKFLOW 
MockFlow is a collection of web wireframing and planning tools. WireframePro allows you to sketch up your first concept and then iterate until it's perfect – there's even a UI revision tracker to assist you. It includes thousands of pre-built components and layouts that you can customize to match your needs, as well as a preview mode for showing your work to colleagues and clients.
After you've completed your wireframes, the rest of the suite can assist you with other parts of the website design tool, such as information architecture, creating a style guide (which can be generated automatically), and completing a sign-off procedure.
ADOBE COMP
Adobe Comp is an excellent iPad web design tool that helps you create wireframes, prototypes, and layout designs for your web pages. If you want to call it that, it's a Creative Cloud-powered intelligent sketchpad. It includes basic templates for a variety of mobile and web layouts, as well as a print if that's your way, and you can quickly create keywords by drawing basic shapes to represent photos, text, and other elements.
Despite a long-standing request that has been under evaluation for what feels like an eternity, Adobe has decided not to include direct export to XD. However, exporting to Photoshop (along with Illustrator and InDesign) is built-in, and once you've tweaked your mockup in the popular image editor, you can ship it to XD from there.
Conclusion
Just keep in mind that free web design tools almost often restrict the features and functionalities you can use – you may be okay with this now, but it could become highly frustrating in the future. While I always advise using free plans to construct, explore, and experiment with different builders, I never suggest sticking on a free plan indefinitely.